Select a Featured
Golf Club in Ireland
Kenmare Golf Course
Kenmare Golf Course
County Kerry Ireland
Golf Course Details: Length: 6066 yards Par: 71
Course Designer: Eddie Hackett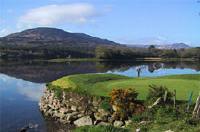 Kenmare Golf Club was founded in 1903, and was extended to 18 holes in 1993. Whilst the course can be very exacting for a good player, it is never unfair to the weak.
The early holes stretch along the picturesque Roughty river estuary, while the remaining holes provide panoramic views of Kenmare Bay and the Roughty Valley.
The famous old course is a fair test of golf and is unique in that it suits all standards of golfers. It is fair to say that the course is the jewel in the crown of the late great Mr. Eddie Hackett, one of the games premier golf course architects.
Kenmare golf course boasts some of the finest scenery imaginable. The views over Kenmare bay and the surrounding mountains take one's breath away.
The course has some great feature holes and is always in first class condition which are all the ingredients for a wonderful round of golf.
The course is just a two minute walk from Kenmare town with its many fine hotels, guesthouses and restaurants.
This venerable old golf course cannot be omitted from a golfer's itinerary.