Select a Featured
Golf Club in Ireland
Tralee Golf Course
Tralee Golf Course
County Kerry Ireland
Golf Course Details: 6975 yards, par 72.
Course Designer: Arnold Palmer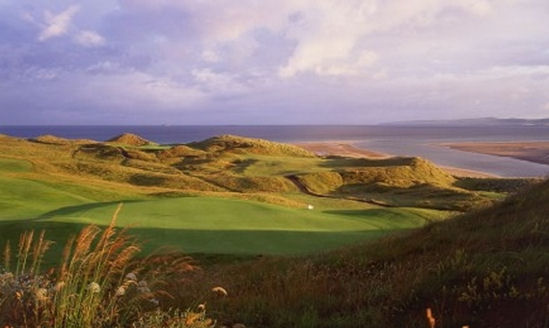 Click for Larger Image.
Opened in October 1984 Tralee Golf Course was the first European golf course designed by Arnold Palmer. When he first saw the area upon which his company was to build Tralee golf links, he was ecstatic about the possibilities. "I have never come across a piece of land so ideally suited for the building of a golf course" he said.
"I designed the first nine but surely God designed the back nine", Palmer explained. "I am happy that we have one of the worlds' great golf links here."
"The setting is quite the most magnificent backdrop for a golf course that I have ever encountered", wrote Peter Dobereiner, the famous golf writer, not long after the course was opened. Other writers have claimed that Tralee is truly one of the 'can't miss' golf experiences in the world and that two rounds are required to truly appreciate it, one for the scenery and one for the golf course.